Extract of the event régulations.
Mediterranean Athletics Union organise its 1st U23 Indoor Championships in Miramas (FRA), 19 January 2019. The competition will be held in Miramas Métropole Stadium the supervision of French Athletics Federation.
PROGRAMME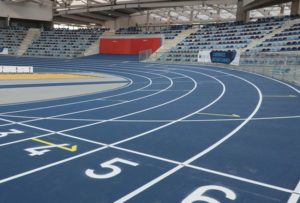 The MAU U23 Championships shall be staged in accordance with the applicable rules and regulations of the International Association of Athletics Federations (IAAF). The programme shall comprise the following events:
Men : 60m, 400m, 800m, 1 500m, 60m hurdles, Pole Vault, Long Jump and Shot Put
Women : 60m, 400m, 800m, 1 500m, 60m hurdles, High Jump, Triple Jump and Shot Put
PARTICIPATION
All MAU Member Federations shall be entitled to enter athletes in the MAU U23 Championships. No athlete may take part in the MAU U23 indoor Championships unless entered by the MAU Member Federation which he/she is eligible to represent in accordance with the IAAF Rules.
Teams representing a Country of less than 50,000 inhabitants can send athletes who are not citizens of this country, at the condition that these athletes can proof that they are resident and have an athletics license in this Country since at least 3 years without interruption at the date of the competition and have no participation to a continental or world championship with any other country.
Only athletes aged at least 18 years and not more than 22 years on 31 December of the year of the
competition may participate to the Mediterranean Indoor U23 Championships
For the 2019 Mediterranean Indoor U23 Championships, the athletes have to be born in 1997, 1998, 1999, 2000 or 2001.
ENTRIES
A MAU Member may enter one athlete in each event, irrelevant to any standard. If a MAU Member wants to enter a second athlete in the same event he/she must comply with the qualification standards.
A MAU Member Federation may up to 2 athletes in each individual event of whom up to 2 may participate..
Entries : Preliminary entries will be open 1st December 2018 and closed December 15 2018  / Final entries will be open from January 2nd to January 13th.
LOGISTICS
Official airport is Marseille Provence (MRS).
Accommodation will be organised near Miramas; all teams will be accommodated in 3*** hotels.
The LOC will cover the full board accommodation cost for 3 nights according to the financial quotas (See technical section).Official period is Thursday 17 January (arrival) to Sunday 20 January (departure). Extra quota/period will be charged to the Member Federations, at the rate of 110 euros for full board
accommodation, per person per day in a twin room.Members of these 8 MAU MFs need a visa to enter Italy: ALG – EGY – KOS – LBA – LBN – MAR – PLE – SYR – TUN – TUR.
Please contact FFA international department (see below)
LOC CONTACTS